We can create a refined and comfortable friendly atmosphere by decorating our houses with amazing antique Caucasian carpets.
Of course,decorating our houses with other carpets,such as Persian Carpets,Turkish Carpets,Chinese Carpets and so on, can also make our houses more beautiful and graceful.However, it is particularly worth mentioning that adorning a house with a Caucasian carpet can add unique flavor and incomparable beauty to the house ,as Caucasian carpets,or called Caucasian rugs , are classic and antique, unique and gorgeous.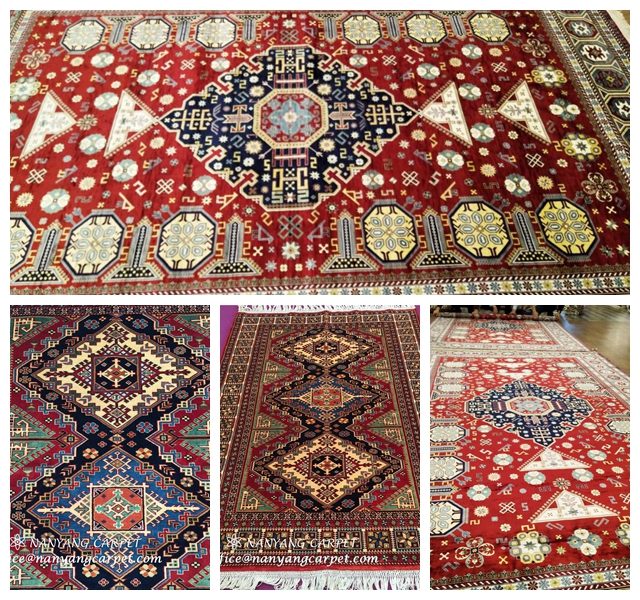 Caucasian carpets get their name from the area in which they were made–the Caucasus. Caucasian carpets are famous for floral designs,geometric designs and tribal designs ,as well as emphasize rich and varied colors.
Over time, Caucasian carpets are popular with more and more people.More and more carpet manufacturers produce Caucasian carpets.Noticeably,among the plenty of carpet manufacturers,Nanyang Carpet Silk Factory produce handwoven Caucasian carpets with fine craft and reliable quality.Better yet,in order to satisfy the needs of our customer for coziness and practicality, Nanyang Carpet Silk Factory can also customized carpets according to customer`s requirements. Nanyang Carpet can also customized Caucasian carpets for customers from all over the world, especially for carpet dealers or shop owners from Middle East. We have old customers from Middle East, as their purchase orders are large ,it took our weavers months or even a year to complete the handmade Caucasian carpets.We' re very honored that we can obtains the customers of the recognition and praise.
Choosing and owning the remarkable Caucasian carpet or Caucasian rug, we can enjoy own own comfort and pleasure in our houses.